The world famous fashion brand J. Lindeberg has been a big part of the Swedish fashion wonder since its founding in 1996. Johan Lindeberg early combined a sporty and active lifestyle with fashion, which quickly led to great success. With almost 90 own stores and 35 shop-in-shops worldwide, focus on the physical store and its appearance is a high priority.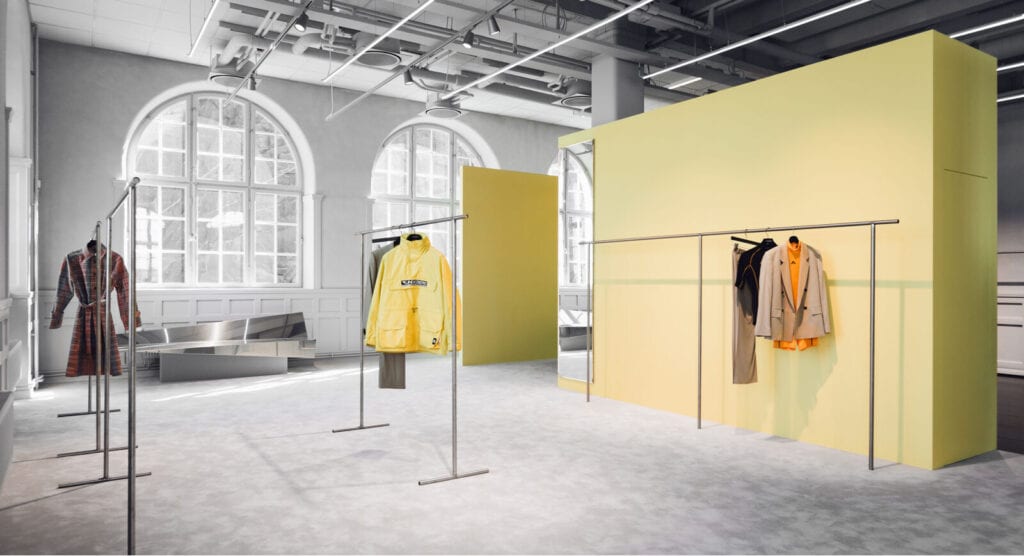 J. Lindeberg wanted to develop his previous interior design concept and take it to a new level – conceptually and functionally. With a high level of finish and practical function, the interior would harmonize even more with the brand, while the units would be modular and adaptable to different sizes of stores.
The concept consists of different arched modules in brushed steel where each unit has recessed LED lighting. The interior is completely modular, can be built on with various number of units and ends with a side panel where J. Lindeberg's logo is backlit with LED.
Studio David Thulstrup, award-winning Danish design studio together with J. Lindeberg and LSI Group. LSI has been responsible for prototype development and production of the new concept, developed by Studio David Thulstrup together with J. Lindeberg.
During the project, Studio David Thulstrup, J. Lindeberg and LSI worked closely together to develop the interior – a process of roughly 1,5 years where ongoing reconciliations have taken place in consultation with the client and design agency. An incredibly valuable and important step in the development of the concept was the development of an entire prototype in exact dimensions and materials. This finished prototype was produced by LSI and evaluated by the design agency and establishment manager at J. Lindeberg.
Two different versions, in the same design with different construction solutions were launched in Germany, England, Switzerland and Norway in 2019. Together with the design agency and customer, this ready-made solution was evaluated, where strengths and weaknesses in the construction and execution were identified. A work that then led to the final version which in September was delivered to both Sweden, Länna Sport and to Zurich Airport.
This development process has been complex, with a number of important parameters to take into account. This has led to a thorough and modular interior with a focus on the highest level of quality in terms of details, practicality and finish.